The Way of a Seer~Balinese Healers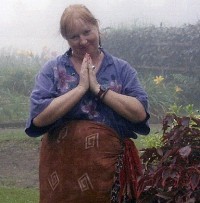 Namaste,
Long before Elizabeth Gilbert wrote her popular book "Eat, Pray, Love," I had done just that in Italy, India and Bali. Unfortunately, I didn't write a bestselling book. Kudos to Elizabeth for writing her book and sharing her remarkable journey.
However, I did eat my way through Indonesia tasting the Balinese delicacies served throughout the island, starting with the Nusa Dua Hotel restaurant and moving on to Ubud's many restaurants. We tried the Dirty Duck, Cafe Wayan, Cafe Luna, Ary's Warung and Shandana Veggie Cafe. We drank mango lassi's, so cool and refreshing as good as any I have had in Malaysia or India. We prayed daily at the numerous Temples we visited across Bali.
My first experience in Bali was life changing. The beauty and spiritual depth of the Balinese people captures one's heart as no other culture. Each morning we observed the woman of the house preparing a food offering fringed with frangipani or orchids and placing it at the doorway of the house for the Spirits. It is so touching to witness this devotion as a morning ritual.  In the evenings the village men were seen rushing to temple from work, a tribute to their faith. Many homes had Spirit houses placed outside the doorways.
Buddies in Bali
Let me share with you my healing with a renowned Balinese Healer and the unique experience of a Hindi Cremation Ceremony as I traveled with friends on my own spiritual journey throughout Bali. Flying on Garuda Airlines to Denpasar after meeting up in Los Angeles with our little group Monica, Carol and Delores, for the long flight to Bali we began our new adventure. I was a presenter for "Power Places" of California and we knew that we had an additional group of spritual seekers awaiting us in Bali.
Balinese Healer, Susan and Translator
The tour company had set up the conference in the Nusa Dua Beach Hotel at Kawasan Partwisata in Nusa Dua, a luxury hotel on the Indian Ocean with a fantastic spa.
We spent spent several several days at the hotel meeting our traveling companions and enjoying the Metaphysical Workshops by different presenters. We arranged to meet with a Balinese Healer, called a Balian and a Psychic healer. The Balian was located in the village of Desa Singapadu Tengah near Ubud. We met individually with each healer speaking through a translator. The Physical Healer was amazing especially for me in retrospect. He told me that I had a serious condition on my right side above my stomach. I shrugged it off thinking it was some future female issue. The healer touched my right side a little above my waist and pressed his hand into the flesh below my rib cage. Unbeknownst to me I had  a rare pheochromocytoma tumor and a mass on my adrenal gland which was growing and eventually caused great havoc to my system. The Balinese healer saw this disease in May, 1996 and told me that I would eventually need surgery. This tumor was discovered by chance in 2009 and its removal with the adrenal gland likely saved my life.
My oncologist found the tumor and the surgeon removed it as non malignant. My doctor informed me that the tumor had been growing slowly for years. The Balinese healer identified my condition thirteen years before the doctors found it in my body. The tumor spikes extremely high blood pressure and the symptoms mimic a heart attack and if misread can be fatal. I had known something was wrong and until I began to write down my symptoms over a long period of time no one could piece it together.
Remarkable in itself, I who usually pay attention to what I am told discounted the symptoms the healer described albeit, maybe because I had other acute health issue to deal with or I was having too much fun living life, and I had forgotten what he told me until I began to ready myself to blog about this trip and in looking over my notes taken at the time I was completely astounded at what he had foretold and how it had occurred.
I did not take notes myself on the information from the psychic healer as I was caught up in the moment with the translator and don't remember what she said to me, However, I do recall what she told Monica and it too has come to pass.
That is however, Monica's story to tell.
Balinese Psychic
Funeral Tower
We were privileged to attend a Balinese Cremation ceremony for an elderly village woman who had died. The ceremony was an assault on the senses. In the cremation, called a pengabenan,we saw traces of many religions, Hinduism, Buddhism, animism, magic, spirits and Christianity. The Balinese believe that the soul lives in the body as a temporary state and upon death the soul must be returned to the five elements, solid, liquid, energy, radiance and ether to become ready for reincarnation.
When I returned to Washington DC a friend looked at the pictures of the cremation ceremony and commented, "It looks like a movie set are you sure it was real."I assured him that this was Bali and a real Hindi cremation that we had attended.
The drumming, chanting, and flurry of noisy chatter could be heard before we saw the sight of the villagers dressed in multi-colored batik sarongs. The men stood about in swirling skirts some in black and white checks with black shirts and batik waistbands carrying the Pagoda like tower. Visible from every angle was the white shrouded body of the deceased as she was carried through the village to the site of the ceremony for the burning of the body.
Funeral Pyre
Following the procession along the brown dirt road full of potholes in the unbearable heat and humidity we traveled by foot to the cremation celebration. We stopped to watch the villagers gather food at Balinese homes and were invited in to see the huge array of cooking that was going on for the feast. The family walked in front of the colorful tower. The vision of that day stays with me current and vivid in my minds eye as the joy of life at death was evident during the funeral celebration of a Balinese elder.
We returned to our hotel in Nyuh Kuning walking the short trek from Ubud through Monkey Forest keeping the creatures at bay. We had moved from the luxurious Nusa Dua hotel and our inexpensive hotel was as lovely as one could imagine overlooking verdant rice paddies. Our room included breakfast with banana pancakes, coffee and fresh fruit for rates about $25.00 dollars a night for two. The pool was surrounded with bougainvillea vines. The rooms were high up on stilts with hand made Balinese teak wood furniture, nestled away from the hub of Ubud.
Monica at Temple (Pura)
Did I Say,
Eat, Pray , Love.
Eating our way through Bali was a given. The fresh seafood was a treat and the wonderful aromatic spices a delight to taste. My friends ordered chicken almost daily and one evening, Delores, my roommate and law clerk buddy from our former lives, said to me,"Why don't you order chicken, I know you like it?" I said, Oh, I like seafood better, but later after dinner I told her," I'm not sure that is chicken, have you noticed the body, is shaped like a cat but cut like a chicken. Also, have you seen any cats on the island?"
There were no cats on the island as evidenced by the rats of Ubud quite visible running up the bamboo rafters of the restaurants or scurrying through our room at night gnawing through our tupperware containers into our trail mix.  Our hotel in Saren Indah seemed exempt from rats,(as was the Nusa Dua hotel)  and I do mean rats, not mice, maybe that's why the hotel was  built on stilts. I noticed Delores stopped ordering chicken after that. Cat indeed! We did not mention our unsavory thoughts to the others.
Carol and friends in Temple gear
Eat and Pray, that came easy for us. In every Temple we thanked God and all the joyous Spirits for our bountiful lives. It was easy to be grateful for the time, the money and health to enjoy such a marvelous adventure. We felt truly blessed and gratitude was ingrained in all of us as we traveled around the area seeing the simplicity of the worldly goods consumed around us. Praying at temple each day with our ceremonial sashes and sarongs covering us gave us time to reflect on our abundant lives. We all enjoyed high paying jobs and the luxury of traveling half way across the world. We knew that we were blessed.
But love, physical love, not one of us found in Bali. Some had left lovers at home but love was all around us in the family life of the Balinese we met, and the unique giving individual souls who crossed our path.
Not a personal soul mate like Elizabeth found, but many souls living lives of unconditional love. One such soul we met in the form and spirit of a woman named Ibu (mother) Robin Lim, a midwife, poet, author and remarkable woman. She was providing limited midwifery care with a few volunteers to the people who needed it in the area of Ubud out of her spacious Balinese home which was still being built at the time. We visited her home and donated what we could to her cause. Her enterprise was new when we met her but in the decade that we have been gone, I am happy to say her Foundation has flourished. She now does her work in Bali, Aceh Sumatra, Indonesia and Haiti. If you are drawn to her service for others please check out her Foundation and make a donation if you wish. It is called Yayasan Bumi Sehat (Healthy Mother Earth) Foundation and can be found atwww.bumisehatbali.org
Robin Lim in Aceh
Robin Lim is a mother, grandmother, author, poet, midwife and educator who lives in Bali with her husband and children. She is a certified midwife, with the North American Registry of Midwives and Ikatan Bidan Indonesia. She is founder and executive director for Yayasan Ibu Bumi Sehat Birth Center in Bali. Lim splits her time between the birth center and Tsunami Relief Clinic in Samatiga Aceh, Sumatra. Ibu Robin is an author. Many of her articles, stories, and poems have been published in Midwifery Today magazine and the Birthkit newsletter. Lim has been given the Alexander Langer International Peace Award.
(Taken from Robin Lim Bio from Midwifery Today, accessed on the web 9/16/2010)
All photopgraphs were taken by Susan Stockton in May 1996, except for the current picture of Robin Lim taken from web,mage, accessed September 16, 2010, The picture was taken in Aceh, Sumatra, Indonesia and is taken from a field report by Heather Crawford May 13, 2008.